I have a general rule of keeping the Kindergarten projects short and sweet. We rarely have a lesson that lasts more than 45 minutes. This week they have been working on paintings of lions. More to come on this later!
Last week we reviewed primary and secondary colors with a St. Patrick's Day lesson.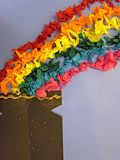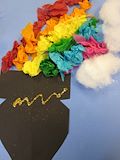 In addition to putting their rainbows in ROYGBV order, each child had to make a symmetrical black pot.