I like to do at least one 3D project with my third grades every year, but my materials are limited. One year we made paper lizards which I loved! They were super easy and the kids were so pleased with the results. The body was made out of a long, skinny triangle. Each scale was a wide V shape. They had to make 6-8 V's that started small and got increasingly larger. The smallest was for the tail which was the point of the triangle and the largest was for the head which was at the straight end of the triangle, opposite the point. They bent each V in half and glued them to the long triangle body. We added long lizard legs, a curled pink tongue and googly eyes to finish.
3D Paper Iguanas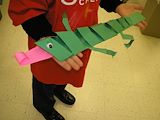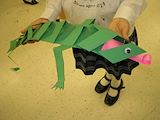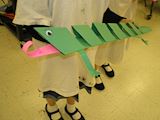 Art Class Works
also has a 3D paper Iguana project with instructions:

I love how she displayed these on the wall!